Cyclists and pedestrians are finally passing smoothly and safely under the Ring Road near the Welriekendedreef. At the end of that lane, at the edge of the Sonian Forest, there used to be a dark pedestrian tunnel. Crossing by bike was only possible with the two-wheeler in the hands, moving it along the bike gutter and pedestrian strip. We have converted the pedestrian tunnel into a comfortable bicycle tunnel. And brightened it up with graffiti art on top of that.
Crossing the Ring safely and comfortably by bike
The Ring Road around Brussels is often a barrier. Those who want to cross the motorway by bike regularly face an unsafe task or have to make a big detour. Nor do the existing roads and paths usually provide the desired comfort. With 'Working on the Ring', the Government of Flanders, through De Werkvennootschap, is pushing hard for better cycling infrastructure in the vicinity of the Ring.
The conversion of the old pedestrian tunnel on Welriekendedreef into a comfortable bicycle tunnel will again provide cyclists in the eastern periphery with an extra safe and more comfortable route.
With respect for the Sonian Forest
The choice to convert exactly this pedestrian tunnel was not taken haphazardly. After all, the investment does not only benefit the residents of Overijse and Hoeilaart. The many cyclists in and around the Sonian Forest will also frequently use the tunnel.
Moreover, the construction of the tunnel took into account the fauna present. For instance, on the side of the tunnel that faces the forest, no bright lights have been placed that would disturb the animals' habitat. For this reason, the road markings in the tunnel will soon be applied with special self-illuminating paint. Graffiti art adorns the tunnel Anyone cycling through the tunnel will immediately notice the two surprising artistic interventions. At the exit towards the Sonian Forest, an imposing print of a stag beetle is embedded in the concrete wall. A reference to this protected inhabitant of the forest.
At the centre of the tunnel, Italian artist Tellas and Puerto Rican 2Bleene and Leuven-based artist collective Treepack created a beautiful abstract mural featuring white and red wood anemones.
Click here for more information about this bicycle tunnel and 'Working on the Ring'.
Click here to plan your cycling or walking route through the Soninan Forest using our route planner.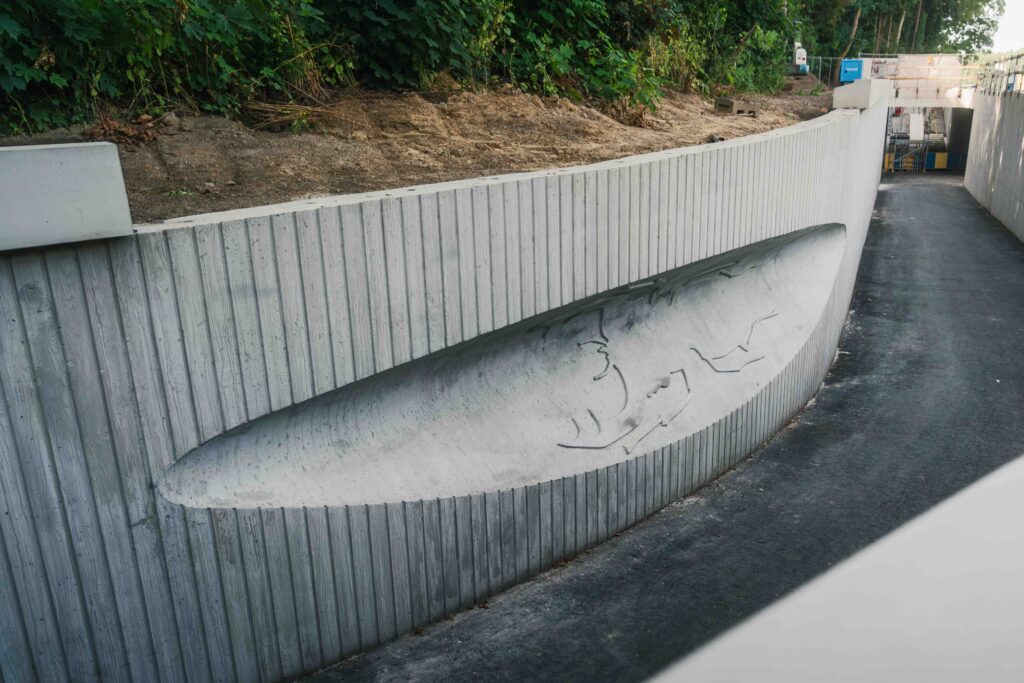 Photo credits: De Werkvennootschap – 'Working on the Ring'