Children, young people, school classes and youth movements can romp around freely, build camps, organise forest games, etc. in the various play zones in the forest. In these zones you can walk around and play freely.
Elsewhere in the forest, it is important to stay on the paths in order not to damage the forest.
The play zones can be recognised by this pictogram and can be found in the orange zones on the general map.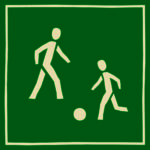 Several of our partners also have extensive youth work, organise forest workshops, children's and youth camps or school activities.