Ecofence safely shepherds animals over the railway tracks
A new natural (eco)fence screens off the Brussels-Luxemburg railway line from the Sonian Forest and leads deer, martens and amphibians to the ecoduct. This is where they can safely cross the railway tracks.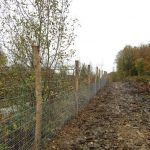 An ecoduct has reunited two parts of the Sonian Forest, which was split by the L161 railway line, since 2012. A natural fence was installed in the Brussels part of the forest at that time. Another fence was put in on the Flemish Region part in late 2014, which goes to the Groenendaal station. This means that the forest fauna can only cross the railway via the ecoduct, which will reduce the number of animals killed.
Ecofences?
Major interest for Sonian forest in the media
La Libre Belgique, Bel RTL, Knack, De Standaard, Le Soir, La DH, VRT Nieuws, Het Nieuwsblad, Metro, the list of media that drew attention to the Sonian forest this past month is long.

Especially the approaching recognition of the Sonian forest as UNESCO World Heritage is arousing people's interest. Almost all media went into this. But the forest could also be seen on a spread in the weekend edition of [...]
 Archaeologists discover underground room below Groenendaal priory
While researching the former Augustinian priory at Groenendaal, archaeologists stumbled upon an unknown underground room. Further research should now reveal what the room was used for in the Middle Ages.
In 1343, three canons from the Brussels Cathedral of St. Michael and St. Gudula founded the Augustinian priory at Groenendaal. To this very day several buildings are testament to its devout past: the historic farm that now houses the Bosmuseum Jan Van Ruusbroec (Forest Museum), the remains of the priory church, the Classical coach house and the building to house the staff from 1783, where the Government of Flanders has an office. It now appears that the site concealed another room below ground.
Wildlife crossing needs a name
The die has been cast: In 2017, the new wildlife crossing over the Brussels Ring will be constructed approximately 2 kilometres south of the Groenendaal Bridge. Its final design has also already been decided. The only thing still missing for this work of art is a name. Will you help us find one?
The wildlife crossing is the flagship of the LIFE+ OZON Project. In this European project, forest managers from the three Belgian regions work together with the road administrators, the cities of Hoeilaart and Overijse and the Environment, Nature and Energy Department to implement far-reaching defragmentation of the forest.