14 december 2014: OZON-walk
Today about 25 interested people gathered in forest museum Jan Van Ruusbroec to learn more about the OZON-project. Participants visited from all over Flanders and Brussels.
17 November 2014: Wildlife fence completed
An additional eco-fence was placed along the Brussels-Luxenburg railway line to complete the present fence. This way animals are guided to the ecoduct and tunnels, where they can safely cross the railway tracks.
02 October 2014: Bartel visits OZON
To learn more about the OZON-project, Bartel Van Riet visited the Sonian Forest. Together with Steven he visited the tree bridge and ecotunnel Pipaens. Curious about Bartel's visit? Watch his show ¨Groenland¨ on October 5th of 11th.
05 September 2014: Visiting ecoduct Kikbeek
OZON's steering committee gathered on September 5th. To make the most of our day, we decided to combine this with a visit to ecoduct Kikbeek in Maasmechelen.
01 August 2014: Ecoduct looking for a name!
The image determination of the future ecoduct across the Brussels Ringroad is almost finished. Will you provide it with its name?
02 July 2014: new amphibian tunnels in Tervuren
Between June 30th and July 3rd two amphibian tunnels have been realized beneath the Duisburgsesteenweg. These tunnels replace the yearly actions where volunteers help about 4,000 amphibians across the road safely.
17 June 2014: DG Environment visits Sonian Forest
For their annual ¨Away day¨, DG Environment (European Commission) visited the Sonian Forest. Participants could enjoy several activities and were introduced project OZON. Read more
07 May 2014: visiting Dutch ecoducts
In 4 fully loaded cars the OZON-team went on a trip to the Netherlands, along with its steering committee. Accompanied by Bert Stegehuis they visited several ecoducts and –tunnels.
11 March 2014: Visit by students bio-engineering
Students from Leuven and Ghent visited the Sonian Forest for an inspiring day in the context of forest management and protection.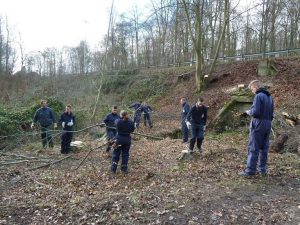 17 February 2014: students Victor Horta at work
Students of the Victor Hortaschool roll up their sleeves: creating dead hedges to guide animals.
09 Januari: Workshop Sint-Clemensschool
The first LIFE + OZON workshop is a fact! Visiting the 6th year students of the Sint-Clemensschool in Hoeilaart resulted in a very fun and instructive day with many new insights on defragmentation.
31 oktober 2013: field visit with Natuurpunt
The first LIFE+ exchange is a fact! Visiting the Sonian Forest with the team of LIFE+ Vlaams Veldgebied. Read more
11 oktober 2013: OZON-project officially launched
The prestigious LIFE+ project OZON was officially launched on October 11th. This event took place under the presence of a large audience in the forest museum in Groenendaal. Read more
– 2 January 2014: Steven Vanonckelen starts his work as project leader.
– 1 October 2013: Anouschka Kuijsters starts her work as project supporter of the LIFE+ OZON project.
– 1 August 2013: the OZON partners look for a project coordinator and project supporter for the LIFE+ OZON project.
– Mid-July: LIFE consultants visit the Sonian Forest in the context of a Natura 2000 meeting.
– Early July: the European Commission gives the green light for the LIFE+ OZON project.