2014-06-07: DG Environment visits Sonian Forest
On June 17 2014, the Agency of Nature and Forests (ANB) hosted the annual DG Environment Away Day in the Sonian forest. Participants could enjoy several activities and learn more about project OZON.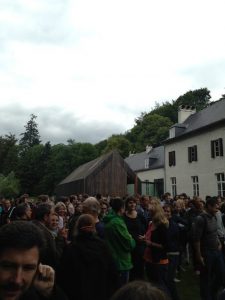 Around 9h30, everybody was up and ready at the Forest Museum in Groenendaal. From there on, a selection of different activities was available with as central theme the beautiful Sonian Forest: about 5000 ha of European top nature and Natura 2000 area. Some activities were very sportive: a guided forest walk, an introduction to Nordic Walking or Geocaching, and an orientation game using photos as clues to identify the route. The project site of LIFE+ OZON was introducted by bike, were participants not only learned about ecological defragmentation but also about the extensive collaboration with all partners during the project.
For those who preferred a calmer activity there were some workshops on nutrition, dealing with stress, crafts and a visit to the Forestry museum.
After the workshops, everybody gathered in front of the Castle in Groenendaal for some drinks and a speech of the Director General. To end this years' ¨Away Day¨, there was a delicious barbecue and the opportunity to enjoy the nice weather, along with the beautiful surroundings of the Sonian Forest.
– – – – – – – – – – – – – – – – – – – – – – – – – – – – –
2013-10-31: Team building in the Sonian Forest
October 

31st the OZON-team visited the Sonian Forest together with forest ranger Dirk Raes and the field team of

LIFE+ Vlaams Veldgebied

. 

The purpose: to learn more about the Sonian Forest and each others projects. 

Armed with sturdy shoes and warm clothing, the group gathered at the forest museum in Groenendaal. After an introduction to the Sonian Forests and the LIFE+ OZON project they went into the forest.

In addition to a general tour and visits to inter alia the fallen "Dikke Eugene" and the old practice racetrack, the group members shared their own experiences while discussing about the forest and each others projects.

When you are interested in a (LIFE+ related) tour into the Sonian Forest or another informative activity, please feel free to contact the LIFE+ OZON staff.
– – – – – – – – – – – – – – – – – – – – – – – – – – – – –
2013-10-11: Official launch of the OZON-project
The prestigious LIFE+ project OZON was officially launched on October 11th. This event took place under the presence of a large audience in the forest museum in Groenendaal.
This European project, that will need to counteract defragmentation of the Sonian forest, was explained at this press conference by among others European president Herman Van Rompuy, Brussels minister Huytebroeck and a respresentative of Flemish ministers Schauvliege and Crevits.
Here you can read the speeches of Mr. Herman Van Rompuy, Mr.Angelo Salsi, Ms. Joke Schauvliege and Mr. Tim Vandenput.
For press communication you can contact: Jan Mosselmans, manager Pantarein – Jan@pantarein.be – tel. 0475 34 44 19.