Ever since 2006, the boar population in the Sonian Forest has been closely monitored. After a peak in 2008, the current population consists of only a few individuals.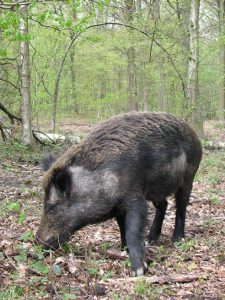 The first boar was seen in November of 2006, after the species had been extinct in the Sonian Forest since 1917. "There are several hypotheses on how the boar ended up in the Sonian Forest again", says Gregory Reinbold from Environment Brussels. "The populations in Wallonia and Flanders are bursting at the seams. In search of territory, the boars cross the Meuse and migrate north. That's how they end up in the Sonian Forest. Another possibility is that one or more animals were abandoned in the forest or escaped from private property that borders the Sonian Forest."
Death by collision
Ever since 2006, several pictures and videos have been made of boars in the Sonian Forest. Tracks have been spotted in several places. All in all there have been 85 sightings.
22 sightings of live boars
5 boars dead by collision
14 picture and video contacts
44 locations where tracks have been spotted (hoof prints, mud pools, digging traces, wiping marks)
Gregory Reinbold: "Boars are nocturnal, which makes it hard to track the species." In the Sonian Forest, wardens use three methods:
Foresters, supervisors and workers report boar sightings and tracks
Picture traps register animals at feeding spots.
Visitors of the forest report sightings on the website

www.observations.be
Lightning speeds
In 2008, the population had about twenty individuals, but that number has decreased strongly. "The cause? At least five boars were hit by cars in 2007, 2008 and 2011 on one of the roads that cross the Sonian Forest. Today, we only spot solitary animals every once in a while. Still, we closely follow the population, because boars procreate at lightning speeds. That's why we keep a close eye on the situation."
Spotted a boar yourself? Report this valuable info to Frederik Vaes on fvaes[at]leefmilieu.brussels, 02 775 77 39 of 0490 66 68 70.