The Sonian Forest—that's 4,400 hectares (10,920 acres) of top European nature, the destination of several million visitors each year. It is also a vast and enchanting forest on the edge of Brussels, intersected by busy traffic arteries. Furthermore, the only nature reserve that stretches out over the three Regions of Belgium.
In 2008, to better coordinate the various functions of the forest and their uses, the Flemish, Walloon and Brussels-Capital Regions decided to work together. They laid out the course of the future of the forest in the 'Structural vision for the Sonian Forest'. This collaboration agreement not only covers the Sonian Forest but also the green zones along the perimeter of the forest: the Bois de la Cambre, the Arboretum of Tervuren, the Kapucijnenbos ("the Capuchin Wood", the Solvay Domain, etc in total no less than 5000 hectares.
One forest, three regions
At the time of the reform of the State in 1980, the authority for the management of the forest transferred to the three regions. Since then, the boundaries of the Sonian Forest overlap the three regions: 56 percent of the forest lies in the Flemish Region, 38 percent in the Brussels-Capital Region and the Walloon Region has 6 percent to its name. In the past, the three regions each took excellent care of the forest within their own territories. But soon it appeared that the forest and the users were in need of a coordinated approach. After all, the Sonian Forest does not stop at the regional borders.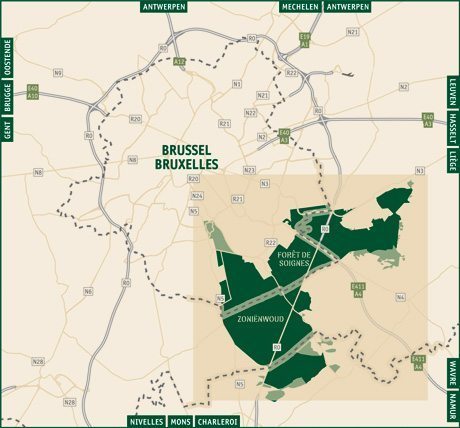 Onward to a vision for the future
In 2005, the three regions sat down together for the first time to sketch out a vision for the future of the Sonian Forest. What do we want to accomplish with the Sonian Forest? How do we want the forest to be utilized and managed in the future? The forest administrators discussed these issues with the responsible poli­ticians, the visitors to the forest, volunteers, the people living in the neighbourhood,etc
Resilient nature and a warm welcome
On 10 November 2008, the competent ministers from the three regions signed a declaration of intent regarding the 'Structural vision for the Sonian Forest'. That structural vision defines the outlines of the future of the forest. The three regions committed themselves to work together extensively to maintain and strengthen the Sonian Forest. The goal: To make the nature there more robust. But also to welcome visitors in a manner that respects and increases the value of the forest.
Realizing the vision together
On 30 April 2012, the three ministers agreed to a consultation model. That model established, in concrete terms, how the regions would realise the plans and projects for the Sonian Forest together.