Last month, new wood piles for stag beetles were constructed in 5 spots in the Sonian Forest.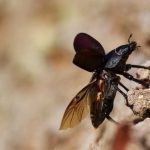 The stag beetle is very rare in Belgium and protected by law. This impressive beetle hasn't been seen in the Sonian Forest for several decades. However, the insect could still be found in a residential area in Bosvoorde a few hundred metres away from the forest, in the centre of Overijse and in the Park of Tervuren.
To create the new wood piles, dead hardwood tree trunks were buried at least 50 centimetres into the ground. In such a wood pile, adult beetles can lay their eggs. After hatching, the larvae feed about five years on the dead wood. If all goes according to plan, the beetles will spread out from their new homes to other spots in and around the forest in the years to come.