With a new audio walking tour and three walking routes, you can get to know the most beautiful spots in the park of the La Hulpe Castle, also known as the regional Solvay Domain. Who can spot the giant sequoia? Who will be the first to make it to the top of the 140 steps to the Belvedère?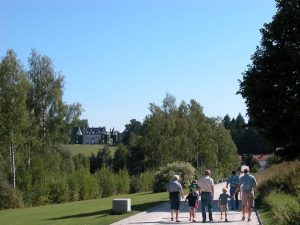 The Solvay Domain, part of which extends into the Sonian Forest, has been a well-kept secret of the walkers and the connoisseurs of the region for some time now. To show off the highlights of the 227-hectare domain, the regional Solvay Domain posted three walks on its recently updated website. "Walkers can download a map of any or all of the walks, each of which focuses on a different experience of the park," Isabelle Peeters from the regional Solvay Domain tells us. "For one of the walks, there is even an audio guide available. Adults and garden-lovers, but also children, can be guided through the walk, each at their own level.
Pools and fruit trees of yore
If you decide on the audio walk, you will learn that the domain owes its name to the famous chemist and industrialist Solvay and that it has been used as a set for films such as Le maître de music. From the outset, you are surrounded by the varied nature of the park and the Bruyère Guêpe, a large meadow with rare giant sequoia trees. The park also boasts one of the largest orchards of old fruit species in Wallonia. Fruit trees, with delicately sounding names like Miel de Waterloo or Pomme de Paradis, which have disappeared everywhere else.
Art in a historical context
But before you reach the orchard, the path leads you along the Etang de la Longue Queue, the largest pond in the domain and the nesting place for rare water birds such as the cormorant and the heron. From the bank of this pond, a monumental staircase with 140 steps leads to the Belvedère, with its beautiful view of the castle and its surroundings. Today, this former farmstead is the home of the Folon Foundation. "Here you can admire more than 500 works of art from the Belgian artist Jean-Michel Folon," says Isabelle Peeters. "Definitely worth your while as a conclusion to your walk."
More info about the Solvay Domain and the walking routes can be found at

www.chateaudelahulpe.be
The Folon Foundation also has its own website at

www.fondationfolon.be